06 Oct

Sabrina, Spring 2017

"I take pride in being a 24/7 learner and urge you to go outside of your comfort zone to do the same!"

Back in high sch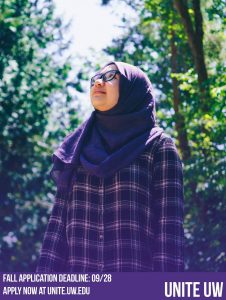 ool in Malaysia, I had a hard time talking to people, sharing what my problems are… I have this one really good friend but she's all the way in Michigan. It was kind of hard back home when things started to get too much…So I made up my mind to come to the US. I've always wanted to go the US ever since I was eight years old when I watched Another Cinderella Story. In the movie, the main character went to Princeton, and I thought I'd go there too.
During the application process for the UW, I was extremely stressed out because like any other adolescent, I procrastinated till the night before the application deadline. I then called my best friend, part talking & part crying. We ended up forming this concept of "Jenga Theory". You know how you keep building on Jenga blocks, and every time you pull, a piece comes out? That's life. When it all tumbles, that's when life hits you. But the thing about Jenga is that it never stops. If you keep continuing, building it back, it will never stop. It may get harder, but it won't stop. I wrote my application essay around this concept, and was fortunate enough to get accepted to the UW.
When I moved to Seattle, things were very comfortable and routine at first. The vast majority of my friend circle consisted of people from back home, people that had very similar experiences, lifestyles and ideals as me. But I wasn't satisfied by this, I felt hungry to explore life outside this cultural clique and believed that there is a lot to learn from other cultures. In my pursuit to explore people with different backgrounds, Unite UW stood out as a great place. UniteUWers are REALLY welcoming and comforting!
I started small, and participated in a lot of RSOs my first year. I guess you just have to be willing to go out and not focus your entire energy on school. Be brave enough to try new things! I'm not saying you should completely forget your culture once you move here, I kept doing Malaysian stuff too. I took the challenge of performing a dance for the first time at Malaysian Night and surprised all my friends! I LOVE to learn and am always on the lookout for friends that support my sense of adventure. Whether I am in the classroom, taking notes to do well in class, or seizing new experiences and opportunities, whether I'm in the United States, or in Malaysia, I take pride in being a 24/7 learner and urge you to go outside of your comfort zone to do the same!"